CommPlace – Working Together
abstract
The goal of this project was to design a workplace that integrated a computer and allowed working in distributed teams. The designed solution integrated a desktop with a special interface for using the communication functionality.
desktop
The desktop consists of a circular worktop at the height of a high desk. A flat screen, combined with touchscreen functionality, is integrated into this worktop. The flat screen is used as a monitor and interaction device. Below the worktop, the main body houses the computer components. An integrated video camera allows the scanning of analog material and video conferencing.
interface
The interface is based on an "empty screen" metaphor: All interface components belong to a strictly constrained area of the screen, in which they can be interacted with. The largest part of the screen remains empty for objects to be used during the work. Thus, it is avoided that important content is overlaid by menues. Both hardware and software were developed in the form of digital models. The workplace was constructed as a 3D model, and depicted in animations. The interface was demonstrated in a demo video. In addition, a physical 1:1 model of the workplace was built, and the interface was demonstrated using overheads in order combine it with the physical model.
pictures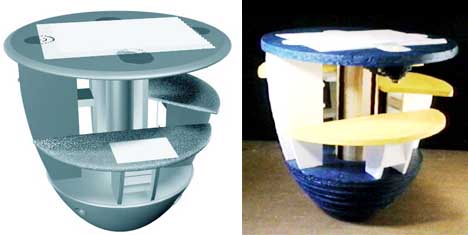 ( ! )

Notice: Use of undefined constant c - assumed 'c' in /home3/unternehmen/public_html/igroup/_layout/footer.php on line 1
Call Stack
#
Time
Memory
Function
Location
1
0.0006
224824
{main}( )
.../index.php:0
2
0.0010
249080
include( '/home3/unternehmen/public_html/igroup/_layout/footer.php' )
.../index.php:37
( ! )

Notice: Use of undefined constant c - assumed 'c' in /home3/unternehmen/public_html/igroup/_layout/footer.php on line 1
Call Stack
#
Time
Memory
Function
Location
1
0.0006
224824
{main}( )
.../index.php:0
2
0.0010
249080
include( '/home3/unternehmen/public_html/igroup/_layout/footer.php' )
.../index.php:37
( ! )

Notice: Use of undefined constant c - assumed 'c' in /home3/unternehmen/public_html/igroup/_layout/footer.php on line 1
Call Stack
#
Time
Memory
Function
Location
1
0.0006
224824
{main}( )
.../index.php:0
2
0.0010
249080
include( '/home3/unternehmen/public_html/igroup/_layout/footer.php' )
.../index.php:37
( ! )

Notice: Use of undefined constant c - assumed 'c' in /home3/unternehmen/public_html/igroup/_layout/footer.php on line 1
Call Stack
#
Time
Memory
Function
Location
1
0.0006
224824
{main}( )
.../index.php:0
2
0.0010
249080
include( '/home3/unternehmen/public_html/igroup/_layout/footer.php' )
.../index.php:37
( ! )

Notice: Use of undefined constant c - assumed 'c' in /home3/unternehmen/public_html/igroup/_layout/footer.php on line 1
Call Stack
#
Time
Memory
Function
Location
1
0.0006
224824
{main}( )
.../index.php:0
2
0.0010
249080
include( '/home3/unternehmen/public_html/igroup/_layout/footer.php' )
.../index.php:37
( ! )

Notice: Use of undefined constant c - assumed 'c' in /home3/unternehmen/public_html/igroup/_layout/footer.php on line 1
Call Stack
#
Time
Memory
Function
Location
1
0.0006
224824
{main}( )
.../index.php:0
2
0.0010
249080
include( '/home3/unternehmen/public_html/igroup/_layout/footer.php' )
.../index.php:37
( ! )

Notice: Use of undefined constant c - assumed 'c' in /home3/unternehmen/public_html/igroup/_layout/footer.php on line 1
Call Stack
#
Time
Memory
Function
Location
1
0.0006
224824
{main}( )
.../index.php:0
2
0.0010
249080
include( '/home3/unternehmen/public_html/igroup/_layout/footer.php' )
.../index.php:37
( ! )

Notice: Use of undefined constant c - assumed 'c' in /home3/unternehmen/public_html/igroup/_layout/footer.php on line 1
Call Stack
#
Time
Memory
Function
Location
1
0.0006
224824
{main}( )
.../index.php:0
2
0.0010
249080
include( '/home3/unternehmen/public_html/igroup/_layout/footer.php' )
.../index.php:37
( ! )

Notice: Use of undefined constant c - assumed 'c' in /home3/unternehmen/public_html/igroup/_layout/footer.php on line 1
Call Stack
#
Time
Memory
Function
Location
1
0.0006
224824
{main}( )
.../index.php:0
2
0.0010
249080
include( '/home3/unternehmen/public_html/igroup/_layout/footer.php' )
.../index.php:37
( ! )

Notice: Use of undefined constant c - assumed 'c' in /home3/unternehmen/public_html/igroup/_layout/footer.php on line 1
Call Stack
#
Time
Memory
Function
Location
1
0.0006
224824
{main}( )
.../index.php:0
2
0.0010
249080
include( '/home3/unternehmen/public_html/igroup/_layout/footer.php' )
.../index.php:37
( ! )

Notice: Use of undefined constant c - assumed 'c' in /home3/unternehmen/public_html/igroup/_layout/footer.php on line 1
Call Stack
#
Time
Memory
Function
Location
1
0.0006
224824
{main}( )
.../index.php:0
2
0.0010
249080
include( '/home3/unternehmen/public_html/igroup/_layout/footer.php' )
.../index.php:37
( ! )

Notice: Use of undefined constant c - assumed 'c' in /home3/unternehmen/public_html/igroup/_layout/footer.php on line 1
Call Stack
#
Time
Memory
Function
Location
1
0.0006
224824
{main}( )
.../index.php:0
2
0.0010
249080
include( '/home3/unternehmen/public_html/igroup/_layout/footer.php' )
.../index.php:37
( ! )

Notice: Use of undefined constant c - assumed 'c' in /home3/unternehmen/public_html/igroup/_layout/footer.php on line 1
Call Stack
#
Time
Memory
Function
Location
1
0.0006
224824
{main}( )
.../index.php:0
2
0.0010
249080
include( '/home3/unternehmen/public_html/igroup/_layout/footer.php' )
.../index.php:37
( ! )

Notice: Use of undefined constant c - assumed 'c' in /home3/unternehmen/public_html/igroup/_layout/footer.php on line 1
Call Stack
#
Time
Memory
Function
Location
1
0.0006
224824
{main}( )
.../index.php:0
2
0.0010
249080
include( '/home3/unternehmen/public_html/igroup/_layout/footer.php' )
.../index.php:37
( ! )

Notice: Use of undefined constant c - assumed 'c' in /home3/unternehmen/public_html/igroup/_layout/footer.php on line 1
Call Stack
#
Time
Memory
Function
Location
1
0.0006
224824
{main}( )
.../index.php:0
2
0.0010
249080
include( '/home3/unternehmen/public_html/igroup/_layout/footer.php' )
.../index.php:37
( ! )

Notice: Use of undefined constant c - assumed 'c' in /home3/unternehmen/public_html/igroup/_layout/footer.php on line 1
Call Stack
#
Time
Memory
Function
Location
1
0.0006
224824
{main}( )
.../index.php:0
2
0.0010
249080
include( '/home3/unternehmen/public_html/igroup/_layout/footer.php' )
.../index.php:37
( ! )

Notice: Use of undefined constant c - assumed 'c' in /home3/unternehmen/public_html/igroup/_layout/footer.php on line 1
Call Stack
#
Time
Memory
Function
Location
1
0.0006
224824
{main}( )
.../index.php:0
2
0.0010
249080
include( '/home3/unternehmen/public_html/igroup/_layout/footer.php' )
.../index.php:37
( ! )

Notice: Use of undefined constant c - assumed 'c' in /home3/unternehmen/public_html/igroup/_layout/footer.php on line 1
Call Stack
#
Time
Memory
Function
Location
1
0.0006
224824
{main}( )
.../index.php:0
2
0.0010
249080
include( '/home3/unternehmen/public_html/igroup/_layout/footer.php' )
.../index.php:37
( ! )

Notice: Use of undefined constant c - assumed 'c' in /home3/unternehmen/public_html/igroup/_layout/footer.php on line 1
Call Stack
#
Time
Memory
Function
Location
1
0.0006
224824
{main}( )
.../index.php:0
2
0.0010
249080
include( '/home3/unternehmen/public_html/igroup/_layout/footer.php' )
.../index.php:37
( ! )

Notice: Use of undefined constant c - assumed 'c' in /home3/unternehmen/public_html/igroup/_layout/footer.php on line 1
Call Stack
#
Time
Memory
Function
Location
1
0.0006
224824
{main}( )
.../index.php:0
2
0.0010
249080
include( '/home3/unternehmen/public_html/igroup/_layout/footer.php' )
.../index.php:37
( ! )

Notice: Use of undefined constant c - assumed 'c' in /home3/unternehmen/public_html/igroup/_layout/footer.php on line 1
Call Stack
#
Time
Memory
Function
Location
1
0.0006
224824
{main}( )
.../index.php:0
2
0.0010
249080
include( '/home3/unternehmen/public_html/igroup/_layout/footer.php' )
.../index.php:37
( ! )

Notice: Use of undefined constant c - assumed 'c' in /home3/unternehmen/public_html/igroup/_layout/footer.php on line 1
Call Stack
#
Time
Memory
Function
Location
1
0.0006
224824
{main}( )
.../index.php:0
2
0.0010
249080
include( '/home3/unternehmen/public_html/igroup/_layout/footer.php' )
.../index.php:37
( ! )

Notice: Use of undefined constant c - assumed 'c' in /home3/unternehmen/public_html/igroup/_layout/footer.php on line 1
Call Stack
#
Time
Memory
Function
Location
1
0.0006
224824
{main}( )
.../index.php:0
2
0.0010
249080
include( '/home3/unternehmen/public_html/igroup/_layout/footer.php' )
.../index.php:37
( ! )

Notice: Use of undefined constant c - assumed 'c' in /home3/unternehmen/public_html/igroup/_layout/footer.php on line 1
Call Stack
#
Time
Memory
Function
Location
1
0.0006
224824
{main}( )
.../index.php:0
2
0.0010
249080
include( '/home3/unternehmen/public_html/igroup/_layout/footer.php' )
.../index.php:37
( ! )

Notice: Use of undefined constant c - assumed 'c' in /home3/unternehmen/public_html/igroup/_layout/footer.php on line 1
Call Stack
#
Time
Memory
Function
Location
1
0.0006
224824
{main}( )
.../index.php:0
2
0.0010
249080
include( '/home3/unternehmen/public_html/igroup/_layout/footer.php' )
.../index.php:37
( ! )

Notice: Use of undefined constant c - assumed 'c' in /home3/unternehmen/public_html/igroup/_layout/footer.php on line 1
Call Stack
#
Time
Memory
Function
Location
1
0.0006
224824
{main}( )
.../index.php:0
2
0.0010
249080
include( '/home3/unternehmen/public_html/igroup/_layout/footer.php' )
.../index.php:37
( ! )

Notice: Use of undefined constant c - assumed 'c' in /home3/unternehmen/public_html/igroup/_layout/footer.php on line 1
Call Stack
#
Time
Memory
Function
Location
1
0.0006
224824
{main}( )
.../index.php:0
2
0.0010
249080
include( '/home3/unternehmen/public_html/igroup/_layout/footer.php' )
.../index.php:37
( ! )

Notice: Use of undefined constant c - assumed 'c' in /home3/unternehmen/public_html/igroup/_layout/footer.php on line 1
Call Stack
#
Time
Memory
Function
Location
1
0.0006
224824
{main}( )
.../index.php:0
2
0.0010
249080
include( '/home3/unternehmen/public_html/igroup/_layout/footer.php' )
.../index.php:37
( ! )

Notice: Use of undefined constant c - assumed 'c' in /home3/unternehmen/public_html/igroup/_layout/footer.php on line 1
Call Stack
#
Time
Memory
Function
Location
1
0.0006
224824
{main}( )
.../index.php:0
2
0.0010
249080
include( '/home3/unternehmen/public_html/igroup/_layout/footer.php' )
.../index.php:37
( ! )

Notice: Use of undefined constant c - assumed 'c' in /home3/unternehmen/public_html/igroup/_layout/footer.php on line 1
Call Stack
#
Time
Memory
Function
Location
1
0.0006
224824
{main}( )
.../index.php:0
2
0.0010
249080
include( '/home3/unternehmen/public_html/igroup/_layout/footer.php' )
.../index.php:37
( ! )

Notice: Use of undefined constant c - assumed 'c' in /home3/unternehmen/public_html/igroup/_layout/footer.php on line 1
Call Stack
#
Time
Memory
Function
Location
1
0.0006
224824
{main}( )
.../index.php:0
2
0.0010
249080
include( '/home3/unternehmen/public_html/igroup/_layout/footer.php' )
.../index.php:37
( ! )

Notice: Use of undefined constant c - assumed 'c' in /home3/unternehmen/public_html/igroup/_layout/footer.php on line 1
Call Stack
#
Time
Memory
Function
Location
1
0.0006
224824
{main}( )
.../index.php:0
2
0.0010
249080
include( '/home3/unternehmen/public_html/igroup/_layout/footer.php' )
.../index.php:37
( ! )

Notice: Use of undefined constant c - assumed 'c' in /home3/unternehmen/public_html/igroup/_layout/footer.php on line 1
Call Stack
#
Time
Memory
Function
Location
1
0.0006
224824
{main}( )
.../index.php:0
2
0.0010
249080
include( '/home3/unternehmen/public_html/igroup/_layout/footer.php' )
.../index.php:37
( ! )

Notice: Use of undefined constant c - assumed 'c' in /home3/unternehmen/public_html/igroup/_layout/footer.php on line 1
Call Stack
#
Time
Memory
Function
Location
1
0.0006
224824
{main}( )
.../index.php:0
2
0.0010
249080
include( '/home3/unternehmen/public_html/igroup/_layout/footer.php' )
.../index.php:37
( ! )

Notice: Use of undefined constant c - assumed 'c' in /home3/unternehmen/public_html/igroup/_layout/footer.php on line 1
Call Stack
#
Time
Memory
Function
Location
1
0.0006
224824
{main}( )
.../index.php:0
2
0.0010
249080
include( '/home3/unternehmen/public_html/igroup/_layout/footer.php' )
.../index.php:37
( ! )

Notice: Use of undefined constant c - assumed 'c' in /home3/unternehmen/public_html/igroup/_layout/footer.php on line 1
Call Stack
#
Time
Memory
Function
Location
1
0.0006
224824
{main}( )
.../index.php:0
2
0.0010
249080
include( '/home3/unternehmen/public_html/igroup/_layout/footer.php' )
.../index.php:37
( ! )

Notice: Use of undefined constant c - assumed 'c' in /home3/unternehmen/public_html/igroup/_layout/footer.php on line 1
Call Stack
#
Time
Memory
Function
Location
1
0.0006
224824
{main}( )
.../index.php:0
2
0.0010
249080
include( '/home3/unternehmen/public_html/igroup/_layout/footer.php' )
.../index.php:37
( ! )

Notice: Use of undefined constant c - assumed 'c' in /home3/unternehmen/public_html/igroup/_layout/footer.php on line 1
Call Stack
#
Time
Memory
Function
Location
1
0.0006
224824
{main}( )
.../index.php:0
2
0.0010
249080
include( '/home3/unternehmen/public_html/igroup/_layout/footer.php' )
.../index.php:37
( ! )

Notice: Use of undefined constant c - assumed 'c' in /home3/unternehmen/public_html/igroup/_layout/footer.php on line 1
Call Stack
#
Time
Memory
Function
Location
1
0.0006
224824
{main}( )
.../index.php:0
2
0.0010
249080
include( '/home3/unternehmen/public_html/igroup/_layout/footer.php' )
.../index.php:37
( ! )

Notice: Use of undefined constant c - assumed 'c' in /home3/unternehmen/public_html/igroup/_layout/footer.php on line 1
Call Stack
#
Time
Memory
Function
Location
1
0.0006
224824
{main}( )
.../index.php:0
2
0.0010
249080
include( '/home3/unternehmen/public_html/igroup/_layout/footer.php' )
.../index.php:37
( ! )

Notice: Use of undefined constant c - assumed 'c' in /home3/unternehmen/public_html/igroup/_layout/footer.php on line 1
Call Stack
#
Time
Memory
Function
Location
1
0.0006
224824
{main}( )
.../index.php:0
2
0.0010
249080
include( '/home3/unternehmen/public_html/igroup/_layout/footer.php' )
.../index.php:37
( ! )

Notice: Use of undefined constant c - assumed 'c' in /home3/unternehmen/public_html/igroup/_layout/footer.php on line 1
Call Stack
#
Time
Memory
Function
Location
1
0.0006
224824
{main}( )
.../index.php:0
2
0.0010
249080
include( '/home3/unternehmen/public_html/igroup/_layout/footer.php' )
.../index.php:37
( ! )

Notice: Use of undefined constant c - assumed 'c' in /home3/unternehmen/public_html/igroup/_layout/footer.php on line 1
Call Stack
#
Time
Memory
Function
Location
1
0.0006
224824
{main}( )
.../index.php:0
2
0.0010
249080
include( '/home3/unternehmen/public_html/igroup/_layout/footer.php' )
.../index.php:37
( ! )

Notice: Use of undefined constant c - assumed 'c' in /home3/unternehmen/public_html/igroup/_layout/footer.php on line 1
Call Stack
#
Time
Memory
Function
Location
1
0.0006
224824
{main}( )
.../index.php:0
2
0.0010
249080
include( '/home3/unternehmen/public_html/igroup/_layout/footer.php' )
.../index.php:37
( ! )

Notice: Use of undefined constant c - assumed 'c' in /home3/unternehmen/public_html/igroup/_layout/footer.php on line 1
Call Stack
#
Time
Memory
Function
Location
1
0.0006
224824
{main}( )
.../index.php:0
2
0.0010
249080
include( '/home3/unternehmen/public_html/igroup/_layout/footer.php' )
.../index.php:37
( ! )

Notice: Use of undefined constant c - assumed 'c' in /home3/unternehmen/public_html/igroup/_layout/footer.php on line 1
Call Stack
#
Time
Memory
Function
Location
1
0.0006
224824
{main}( )
.../index.php:0
2
0.0010
249080
include( '/home3/unternehmen/public_html/igroup/_layout/footer.php' )
.../index.php:37
( ! )

Notice: Use of undefined constant c - assumed 'c' in /home3/unternehmen/public_html/igroup/_layout/footer.php on line 1
Call Stack
#
Time
Memory
Function
Location
1
0.0006
224824
{main}( )
.../index.php:0
2
0.0010
249080
include( '/home3/unternehmen/public_html/igroup/_layout/footer.php' )
.../index.php:37
( ! )

Notice: Use of undefined constant c - assumed 'c' in /home3/unternehmen/public_html/igroup/_layout/footer.php on line 1
Call Stack
#
Time
Memory
Function
Location
1
0.0006
224824
{main}( )
.../index.php:0
2
0.0010
249080
include( '/home3/unternehmen/public_html/igroup/_layout/footer.php' )
.../index.php:37
( ! )

Notice: Use of undefined constant c - assumed 'c' in /home3/unternehmen/public_html/igroup/_layout/footer.php on line 1
Call Stack
#
Time
Memory
Function
Location
1
0.0006
224824
{main}( )
.../index.php:0
2
0.0010
249080
include( '/home3/unternehmen/public_html/igroup/_layout/footer.php' )
.../index.php:37
( ! )

Notice: Use of undefined constant c - assumed 'c' in /home3/unternehmen/public_html/igroup/_layout/footer.php on line 1
Call Stack
#
Time
Memory
Function
Location
1
0.0006
224824
{main}( )
.../index.php:0
2
0.0010
249080
include( '/home3/unternehmen/public_html/igroup/_layout/footer.php' )
.../index.php:37
( ! )

Notice: Use of undefined constant c - assumed 'c' in /home3/unternehmen/public_html/igroup/_layout/footer.php on line 1
Call Stack
#
Time
Memory
Function
Location
1
0.0006
224824
{main}( )
.../index.php:0
2
0.0010
249080
include( '/home3/unternehmen/public_html/igroup/_layout/footer.php' )
.../index.php:37
( ! )

Notice: Use of undefined constant c - assumed 'c' in /home3/unternehmen/public_html/igroup/_layout/footer.php on line 1
Call Stack
#
Time
Memory
Function
Location
1
0.0006
224824
{main}( )
.../index.php:0
2
0.0010
249080
include( '/home3/unternehmen/public_html/igroup/_layout/footer.php' )
.../index.php:37
( ! )

Notice: Use of undefined constant c - assumed 'c' in /home3/unternehmen/public_html/igroup/_layout/footer.php on line 1
Call Stack
#
Time
Memory
Function
Location
1
0.0006
224824
{main}( )
.../index.php:0
2
0.0010
249080
include( '/home3/unternehmen/public_html/igroup/_layout/footer.php' )
.../index.php:37
( ! )

Notice: Use of undefined constant c - assumed 'c' in /home3/unternehmen/public_html/igroup/_layout/footer.php on line 1
Call Stack
#
Time
Memory
Function
Location
1
0.0006
224824
{main}( )
.../index.php:0
2
0.0010
249080
include( '/home3/unternehmen/public_html/igroup/_layout/footer.php' )
.../index.php:37
( ! )

Notice: Use of undefined constant c - assumed 'c' in /home3/unternehmen/public_html/igroup/_layout/footer.php on line 1
Call Stack
#
Time
Memory
Function
Location
1
0.0006
224824
{main}( )
.../index.php:0
2
0.0010
249080
include( '/home3/unternehmen/public_html/igroup/_layout/footer.php' )
.../index.php:37
( ! )

Notice: Use of undefined constant c - assumed 'c' in /home3/unternehmen/public_html/igroup/_layout/footer.php on line 1
Call Stack
#
Time
Memory
Function
Location
1
0.0006
224824
{main}( )
.../index.php:0
2
0.0010
249080
include( '/home3/unternehmen/public_html/igroup/_layout/footer.php' )
.../index.php:37
( ! )

Notice: Use of undefined constant c - assumed 'c' in /home3/unternehmen/public_html/igroup/_layout/footer.php on line 1
Call Stack
#
Time
Memory
Function
Location
1
0.0006
224824
{main}( )
.../index.php:0
2
0.0010
249080
include( '/home3/unternehmen/public_html/igroup/_layout/footer.php' )
.../index.php:37
( ! )

Notice: Use of undefined constant c - assumed 'c' in /home3/unternehmen/public_html/igroup/_layout/footer.php on line 1
Call Stack
#
Time
Memory
Function
Location
1
0.0006
224824
{main}( )
.../index.php:0
2
0.0010
249080
include( '/home3/unternehmen/public_html/igroup/_layout/footer.php' )
.../index.php:37
( ! )

Notice: Use of undefined constant c - assumed 'c' in /home3/unternehmen/public_html/igroup/_layout/footer.php on line 1
Call Stack
#
Time
Memory
Function
Location
1
0.0006
224824
{main}( )
.../index.php:0
2
0.0010
249080
include( '/home3/unternehmen/public_html/igroup/_layout/footer.php' )
.../index.php:37
( ! )

Notice: Use of undefined constant c - assumed 'c' in /home3/unternehmen/public_html/igroup/_layout/footer.php on line 1
Call Stack
#
Time
Memory
Function
Location
1
0.0006
224824
{main}( )
.../index.php:0
2
0.0010
249080
include( '/home3/unternehmen/public_html/igroup/_layout/footer.php' )
.../index.php:37
( ! )

Notice: Use of undefined constant c - assumed 'c' in /home3/unternehmen/public_html/igroup/_layout/footer.php on line 1
Call Stack
#
Time
Memory
Function
Location
1
0.0006
224824
{main}( )
.../index.php:0
2
0.0010
249080
include( '/home3/unternehmen/public_html/igroup/_layout/footer.php' )
.../index.php:37
( ! )

Notice: Use of undefined constant c - assumed 'c' in /home3/unternehmen/public_html/igroup/_layout/footer.php on line 1
Call Stack
#
Time
Memory
Function
Location
1
0.0006
224824
{main}( )
.../index.php:0
2
0.0010
249080
include( '/home3/unternehmen/public_html/igroup/_layout/footer.php' )
.../index.php:37
( ! )

Notice: Use of undefined constant c - assumed 'c' in /home3/unternehmen/public_html/igroup/_layout/footer.php on line 1
Call Stack
#
Time
Memory
Function
Location
1
0.0006
224824
{main}( )
.../index.php:0
2
0.0010
249080
include( '/home3/unternehmen/public_html/igroup/_layout/footer.php' )
.../index.php:37
( ! )

Notice: Use of undefined constant c - assumed 'c' in /home3/unternehmen/public_html/igroup/_layout/footer.php on line 1
Call Stack
#
Time
Memory
Function
Location
1
0.0006
224824
{main}( )
.../index.php:0
2
0.0010
249080
include( '/home3/unternehmen/public_html/igroup/_layout/footer.php' )
.../index.php:37
( ! )

Notice: Use of undefined constant c - assumed 'c' in /home3/unternehmen/public_html/igroup/_layout/footer.php on line 1
Call Stack
#
Time
Memory
Function
Location
1
0.0006
224824
{main}( )
.../index.php:0
2
0.0010
249080
include( '/home3/unternehmen/public_html/igroup/_layout/footer.php' )
.../index.php:37
( ! )

Notice: Use of undefined constant c - assumed 'c' in /home3/unternehmen/public_html/igroup/_layout/footer.php on line 1
Call Stack
#
Time
Memory
Function
Location
1
0.0006
224824
{main}( )
.../index.php:0
2
0.0010
249080
include( '/home3/unternehmen/public_html/igroup/_layout/footer.php' )
.../index.php:37
( ! )

Notice: Use of undefined constant c - assumed 'c' in /home3/unternehmen/public_html/igroup/_layout/footer.php on line 1
Call Stack
#
Time
Memory
Function
Location
1
0.0006
224824
{main}( )
.../index.php:0
2
0.0010
249080
include( '/home3/unternehmen/public_html/igroup/_layout/footer.php' )
.../index.php:37
( ! )

Notice: Use of undefined constant c - assumed 'c' in /home3/unternehmen/public_html/igroup/_layout/footer.php on line 1
Call Stack
#
Time
Memory
Function
Location
1
0.0006
224824
{main}( )
.../index.php:0
2
0.0010
249080
include( '/home3/unternehmen/public_html/igroup/_layout/footer.php' )
.../index.php:37
( ! )

Notice: Use of undefined constant c - assumed 'c' in /home3/unternehmen/public_html/igroup/_layout/footer.php on line 1
Call Stack
#
Time
Memory
Function
Location
1
0.0006
224824
{main}( )
.../index.php:0
2
0.0010
249080
include( '/home3/unternehmen/public_html/igroup/_layout/footer.php' )
.../index.php:37
( ! )

Notice: Use of undefined constant c - assumed 'c' in /home3/unternehmen/public_html/igroup/_layout/footer.php on line 1
Call Stack
#
Time
Memory
Function
Location
1
0.0006
224824
{main}( )
.../index.php:0
2
0.0010
249080
include( '/home3/unternehmen/public_html/igroup/_layout/footer.php' )
.../index.php:37
( ! )

Notice: Use of undefined constant c - assumed 'c' in /home3/unternehmen/public_html/igroup/_layout/footer.php on line 1
Call Stack
#
Time
Memory
Function
Location
1
0.0006
224824
{main}( )
.../index.php:0
2
0.0010
249080
include( '/home3/unternehmen/public_html/igroup/_layout/footer.php' )
.../index.php:37
( ! )

Notice: Undefined offset: 12 in /home3/unternehmen/public_html/igroup/_layout/footer.php on line 1
Call Stack
#
Time
Memory
Function
Location
1
0.0006
224824
{main}( )
.../index.php:0
2
0.0010
249080
include( '/home3/unternehmen/public_html/igroup/_layout/footer.php' )
.../index.php:37